As of January 2022, TikTok has surpassed over 1 billion monthly active users and the numbers are increasing rapidly every single day. If you have been thinking about how exactly to get started with your content on TikTok, the best decision you can make is to just start. Navigating TikTok is not as intimidating as it looks, and we have all the best practices you need to get started with your TikTok content journey and start building a new stream of revenue for your shop. Whether you are a TikTok beginner or already have a strong community on the platform, these guidelines are a must-know if you want to post like a pro!

If you are serious about growing your online presence and generating sales it is in your best interest to start taking advantage of TikTok's endless features and benefits. With countless app users, TikTok is an excellent way to scale your business by building a new revenue channel and attracting all new types of audiences. First things first, let's look at how to start growing your TikTok following and get discovered.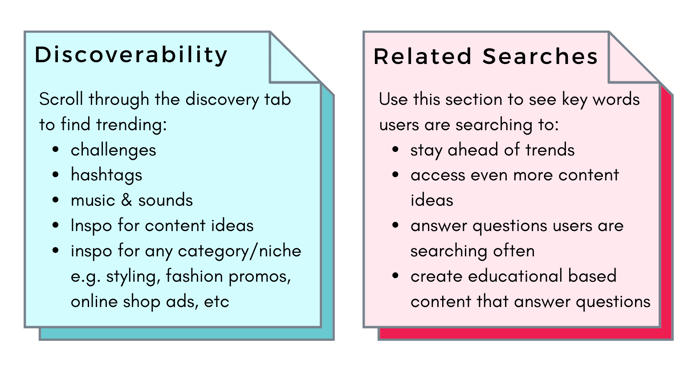 Discoverability Strategy
Explore the Discovery tab (now only available to certain accounts, TikTok is constantly updating its app and testing different features. If you don't have the Discover tab don't worry, the related searches feature is equally - if not more - valuable). The discovery section showcases trending challenges, hashtags, music and sounds, and top performing content in all different categories and niches. It is a great way to find new content ideas in the fashion and styling niches, and try out videos around current events and important community topics. In order to be 'discoverable' you need to stay on top of the trends!
Related Searches Strategy
To find the related searches section, type any key word or topic into the top search bar and scroll to the bottom after your search loads. At the bottom you will see other key words users are searching. Use these terms to understand what users want to see before fashion trends start to go viral (e.g. if you see terms like 'styling turtleneck sweaters' or 'knee high boots' you can strategically add items like these to your shop and create content around these topics). In addition, you can use this feature to get more educational content ideas that will answer questions to topics related to these search terms. This tactic is as simple as giving viewers answers to their questions and solutions to their fashion and styling problems. Now get searching!