Module 2 | Lesson 2: Create engaging videos that address audience challenges, showcase product solutions, and encourage action.
TikTok Shop: Strategies for Engaging Content on TikTok
Read the full article TikTok Shop Seller: Strategies for Engaging Content on TikTok
Click on the image preview below to navigate and watch the full video lesson.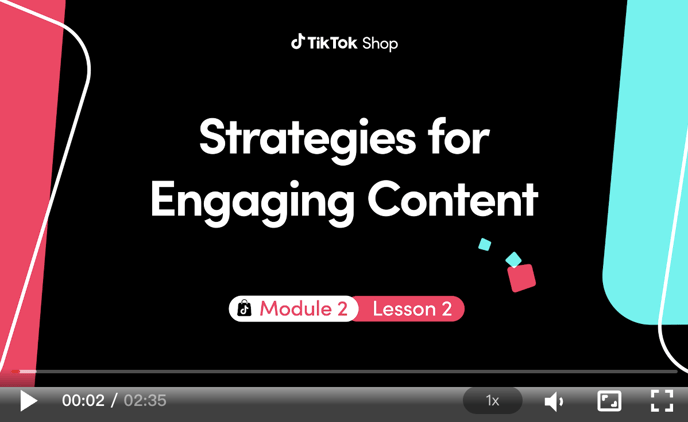 Download the Getting Started Toolkit Workbook
This workbook is designed to help you navigate the many ways to set your shop up for success. Each module in the Getting Started Learner Journey is supported by a section in the workbook. Save the images below to complete Module 2.
Download the complete Workbook here.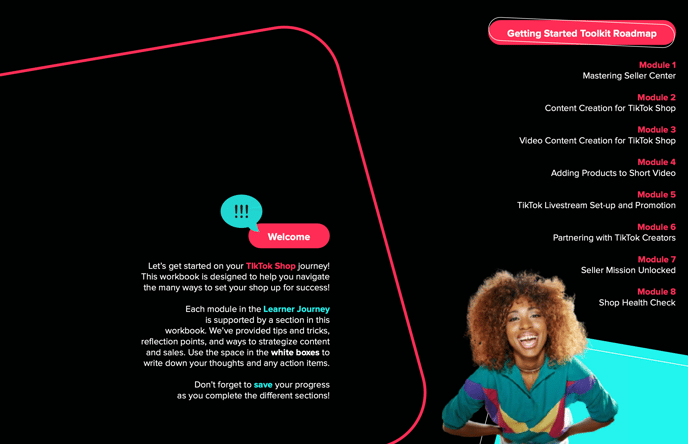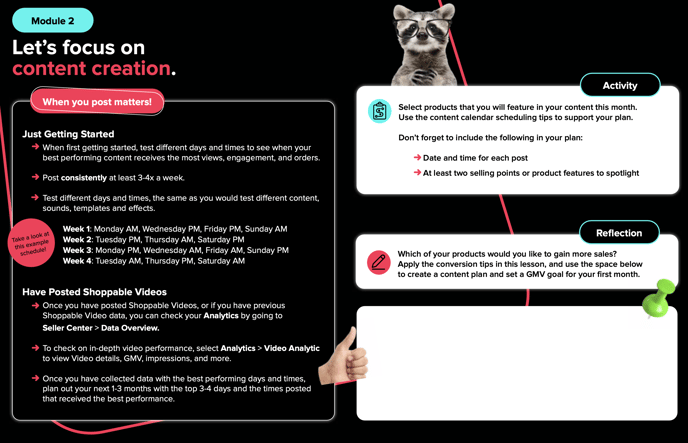 Video Transcript:
Do you struggle figuring out the perfect strategy to create engaging content? In this lesson, we unravel the secrets of engaging content creation.
So, what's cooking? Four delicious ingredients: problem-solving prowess, tapping into the heart of communities, showcasing unique voices, and creating step-by-step guides.
Let's start with problem-solving prowess. Imagine your video as a mini-story. Begin with an attention trigger, highlight your audience's struggles within the first 3-6 seconds, present the solution by showcasing the product, and close with a clear call-to-action.
Pro Tip: Use TikTok's text overlay feature to highlight the problem and the solution.
Next, you should tap into communities. Each TikTok community has its unique characteristics and interests. You've got makeup lovers, fitness buffs, pet fanatics - the list is endless! Align your products with groups with shared interests to connect with your most engaged audience.
Pro Tip: Use hashtags to get in on community action.
Another key to engagement is to embrace unique perspectives.
For example, add a dash of social proof to your content by inviting diverse voices who love your product to show it off in their own ways. There's nothing like a real voice to make things authentic.
Pro Tip: Collaborate with creators using Creator Connect to expand your reach and connect with more communities.
And finally, who doesn't love a good how-to? Provide your audience with a tutorial of the best way to use your product. For instance, show them how to style your TikTok Shop's best-selling jacket for day and night.
Guide your audience through a process with your product. Create buzz by unveiling your product's benefits in a way that resonates with your audience.
Pro Tip: You can use tools like InVideo or Adobe Premiere Rush to create these guides.
By the end of this journey, you'll be a content creation wizard. Remember these key strategies for content creation: problem-solving, tap into communities, provide diverse perspectives, and give transformative product demonstrations. Your challenge now is to create a piece of content using these ingredients.
Happy content creating, and see you in our next lesson!