Module 4 | Lesson 3: Understand the significance of short videos for your TikTok Shop's success, and how they can effectively engage users and appear in the For You feed.
TikTok Shop: Strategies for Promoting Products Through Short Videos on TikTok Shop
Read the full article TikTok Shop Seller: Promoting Products Through Short Videos
Click on the image preview below to navigate and watch the full video lesson.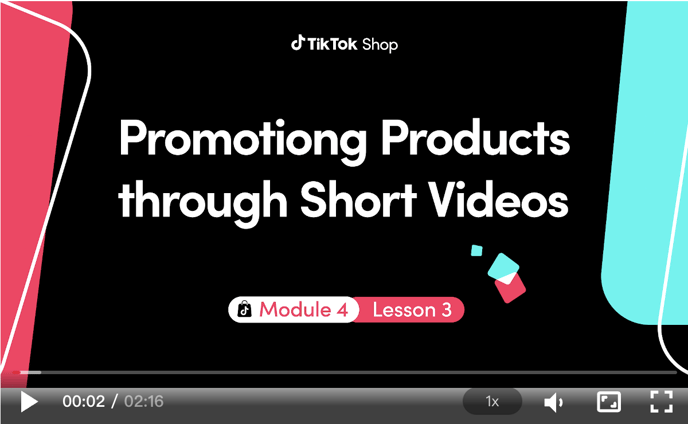 Download the Getting Started Toolkit Workbook
This workbook is designed to help you navigate the many ways to set your shop up for success. Each module in the Getting Started Learner Journey is supported by a section in the workbook. Save the images below to complete Module 4.
Download the complete Workbook here.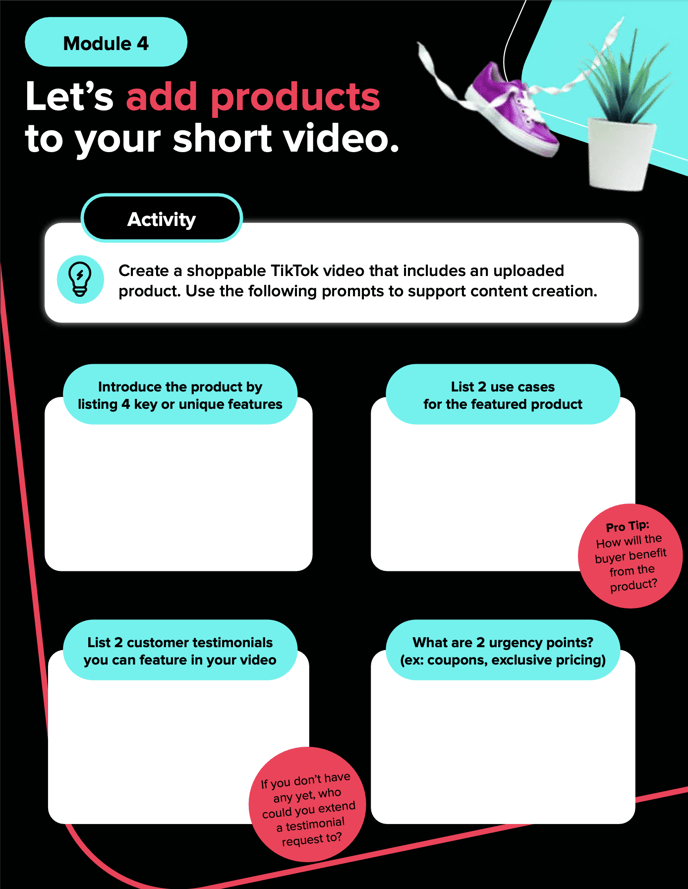 Video Transcript:
Short videos are the game-changer your brand needs. They are essential to your TikTok Shop's success because it's the main type of content TikTok users watch in the app and how you can best show up in the For You feed. Let's explore strategies that will captivate your community and drive success.
Create exclusive, limited time offers for your shoppable videos. This will motivate your community to take action and purchase ASAP, since this deal won't last long.
Create anticipation and excitement around your new collection or product! Give your community a "first-look" on TikTok Shop, the go-to place for trending products.
Highlight your best sellers! Educate your community on your brand's most loved products and inspire purchases for new customers.
Lean into trends or popular sounds to help captivate your audience. The Commercial Music Library allows you to leverage music without the hassle of acquiring licenses to create trendy content.
Now, let's dive into how you should introduce your products to convince your audience to buy. First off, pin your product to make it top of mind for your audience and easily accessible.
Introduce the product and the most important "why to buy" product features. Leading with informative and fun energy makes your content worth watching on your For You feed.
Next, demonstrate your product's use cases. Explain how your product solves the audiences' pain points. Show, don't just tell.
Customer testimonials are very powerful. Include diverse examples of your best ones to build trust and create community connections.
Lastly, don't forget to mention the price, promotions, and post-sale services. Convince the audience that now is the right time to buy!
Before we wrap up this lesson, here's your task: Pick one of your products and draft a script for a short video following the strategies we've discussed today! See you in the next module!