Module 1 | Lesson 1: Grasp the value of the Seller Center as a business hub. Get familiar with the navigating the Seller Center, reviewing product listing, managing orders, and shipping tools.
TikTok Shop: Introduction to Seller Center
Read the full article TikTok Shop Seller: Introduction to Seller Center
Click on the image preview below to navigate and watch the full video lesson.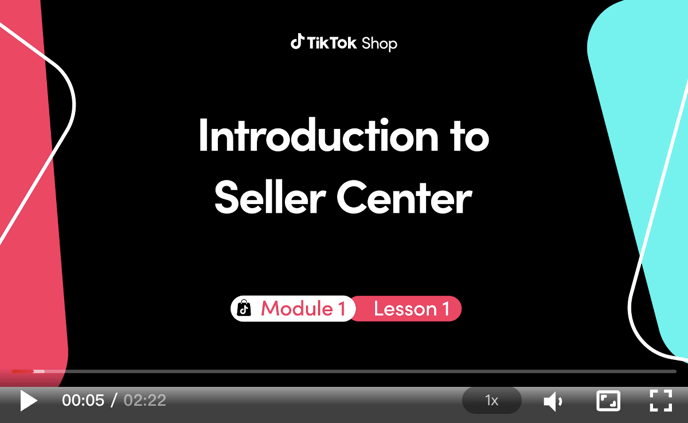 Download the Getting Started Toolkit Workbook
This workbook is designed to help you navigate the many ways to set your shop up for success. Each module in the Getting Started Learner Journey is supported by a section in the workbook. Save the images below to complete Module 1.
Download the complete Workbook here.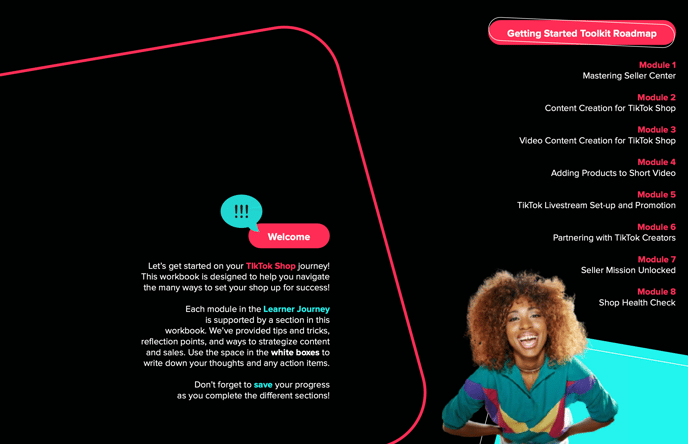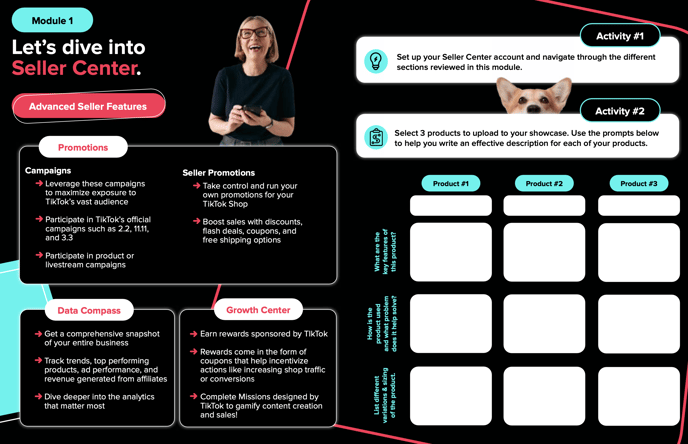 Video Transcript:
Welcome to Module One, Seller Center Launchpad. I'm Edu, one of our learning partners from TikTok Shop. In this lesson, we'll dive into the heart of your e-commerce journey, an overview of Seller Center. Okay. Picture this. You are the proud owner of a thriving online store, brimming with customers eagerly awaiting your amazing product.
What could make our job even easier? Well, enter the trusted Seller Center. The Seller Center is your operations hub. Here, you can manage everything from orders to finance details, and it connects you with talented creators ready to showcase and promote your products. Here you'll find your products, orders, shipping, and service tab.
It's your gateway to effortless product management, efficient order handling, and shipping options, whether you ship individual items or in bulk. Now, let's visit the products feature where your products come to life. You can add important details like name, description, sizing, variations, and more. Next up is manage orders, a full service control hub to track and manage your orders.
The shipping feature makes shipping a breeze. You can create labels, templates, and even connect to supply chains. Through buyer messages, you can promptly address their questions, concerns, ensuring their satisfaction is always top priority. Moving on to the administrative component here, you can manage your account information, finance details, and account health.
Lastly, the TikTok Shop Academy tab, which can help boost your selling power with academies, how-to educational resources. This is where you can discover a treasure trove of onboarding tips, content creation guidelines, and how to shop products masterfully. To conclude, the Seller Center streamlines your e-commerce journey on TikTok shop.
Everything's under one roof from product order management to business optimization. And that's all for this introduction. Your next step, explore the Seller center and try adding a product.