Module 3 | Lesson 1: Define clear objectives for your TikTok Shop content and select appropriate content types to match those goals, whether it's building a community, showcasing products, or driving traffic to your store.
TikTok Shop: Video Content Creation Basics
Read the full article TikTok Shop Seller: Video Content Creation Basics
Click on the image preview below to navigate and watch the full video lesson.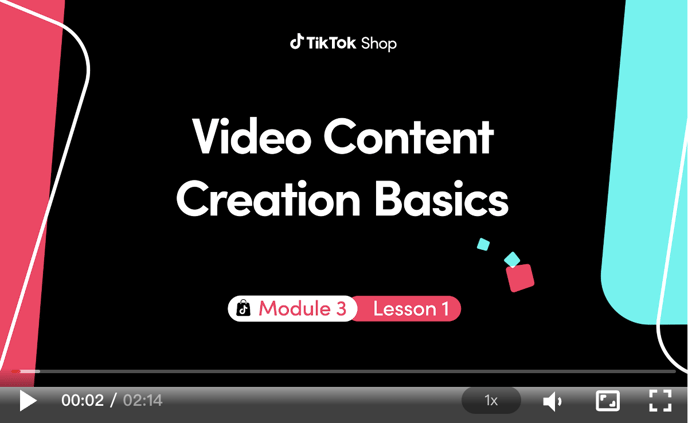 Download the Getting Started Toolkit Workbook
This workbook is designed to help you navigate the many ways to set your shop up for success. Each module in the Getting Started Learner Journey is supported by a section in the workbook. Save the images below to complete Module 3.
Download the complete Workbook here.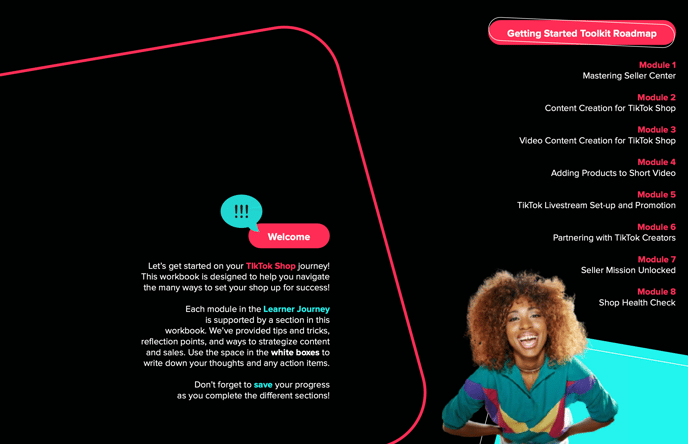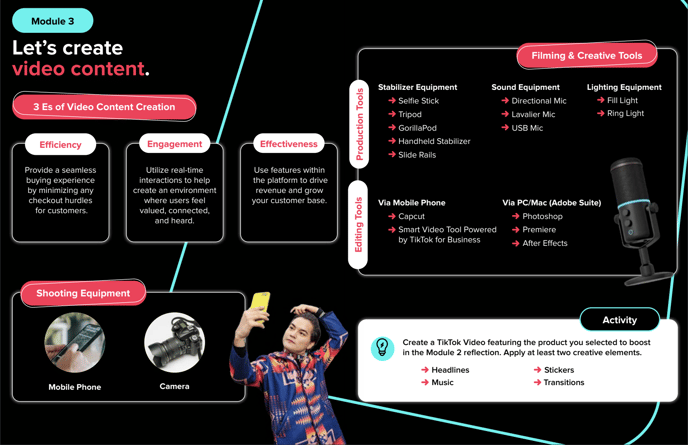 Video Transcript:
In this lesson, let's jump into the basics of video content creation. Get ready to unleash your TikTok Shop's potential with great content creation strategies! Let's roll!
Step 1: Set Clear Goals.
Take a moment to reflect: What are your ultimate goals for your TikTok Shop content? It could be anything, building a community, showcasing your products, or even driving traffic to your store.
Now, keeping this goal in mind, it's best to help define your content type based on your goals. For example, if your goal is to showcase your product, then you should lean on creating a product tutorial video!
Embrace the exciting adventure of trying out different formats, techniques, and trends to find what works best for your account.
Pro Tip: Creating a high impact content plan is easier than you think. You can find a template in your workbook below to start setting up a content calendar.
Step 2: Brand Superpowers.
Next, let's define your brand's superpowers and dive into your audience niche! What makes your store stand out? Is it a unique service, unmatched quality, or perhaps, your story?
Highlight that spark, and ensure it shines in your content. Also, make sure you include irresistible call-to-action offers. Remember to be thoughtful when selecting products for promotion.
Step 3: Gear Up!
To create content on TikTok, you don't need fancy production, we promise! Your viewers prefer authenticity! So, grab your phone, camera, stabilizers, and ring light! And you can create some video magic!
For mobile editing, you can use CapCut or Smart Video Tool. On your computer, tools like Adobe Premiere, After Effects and Photoshop are all available tools.
Now some homework: pick one product from your store, think about an irresistible offer for the chosen product, and what makes it unique. Then, using any of the tools we discussed today, create a TikTok video!
Don't forget to refer to the workbook for additional tips and tricks on filming your content.
Remember, content creation is a journey filled with trials, errors, and lots of learning! So, let's begin this adventure! Happy creating!